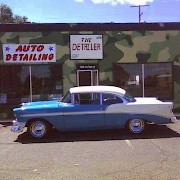 Phone1

: 541-362-5603

Adres

:

1265 NE 3rd St, Prineville, OR 97754

Category

: Car Wash, Auto Cleaning

SHARE





About C & J's the Detailer:
Fair and reasonable priced auto detailing. We take pride in making your auto shine!
Come on down and see us!
Auto, Boat, Motorcycle, Motor home, Semi Truck, and now Mobile detailing.
We have been in business for over a year now, and have gained the respect of the community in and around Prineville. We are Prineville's number 1 spot to have their vehicles detailed. Stop by and see the shiny cars leave our lot.
HOURS:
Tue - Sat7:00 am - 7:00 pm
C & J's the Detailer Map: