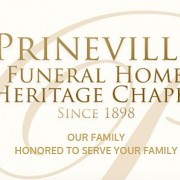 Phone1

: 541-447-6459

Fax

:

541-447-6496

Web

: prinevillefuneralhome.com

Adres

:

199 NE 10th St Prineville, OR 97754

Category

: Funeral Home, Crematory

SHARE





About Prineville Funeral Home Heritage Chapel & Crematory:
It's All about the Relationship, and in a small community like Prineville we are the family funeral home of choice. Serving families in Prineville and the surrounding communities for over a hundred years we believe that your family comes first.
Honoring the life of your loved one means you value the relationship you shared. We look forward to helping you decide how to celebrate that bond, and honor the unique individual you've lost. Our experience-trained staff can make suggestions to enhance your tribute ideas. Together we will create a fitting and memorable event.
Funerals are as unique as one's life itself. Life is full of opportunities to show someone we love them. One such opportunity is the funeral or memorial service. Such a loving event celebrates the choices they have made, the relationship you shared, and honors the memory of your loved one. Let our family help yours in the celebration of life service. We believe that every life is worth celebrating.
ANY FAMILY
at time of need
10% OFF on all markers and monuments.
15% off for all Veterans and spouses
Please ask your funeral director for more information.
Our facility is Handicap Accessible.
Funerals fill an important role for those mourning the loss of a loved one. By providing surviving family and friends with an atmosphere of care and support in which to share thoughts and feelings about death, funerals are the first step in the healing process. It is the traditional way to recognize the finality of death. Funerals are recognized rituals for the living to show their respect for the dead and to help survivors begin the grieving process.
You can have a full funeral service even for those choosing cremation. Planning a personalized ceremony or service will help begin the healing process. Overcoming the pain is never easy, but a meaningful funeral or tribute will help.
Pick up the deceased and transport the body to the funeral home (anytime day or night)
Notify proper authorities, family and/or relatives
Arrange and prepare death certificates
Provide certified copies of death certificates for insurance and benefit processing
Work with the insurance agent, Social Security or Veterans Administration to ensure that necessary paperwork is filed for receipt of benefits
Prepare and submit obituary to the newspapers of your choice
Bathe and embalm the deceased body, if necessary
Prepare the body for viewing including dressing and cosmetizing
Assist the family with funeral arrangements and purchase of casket, urn, burial vault and cemetery plot
Schedule the opening and closing of the grave with cemetery personnel, if a burial is to be performed
Coordinate with clergy if a funeral or memorial service is to be held
Arrange a police escort and transportation to the funeral and/or cemetery for the family
Order funeral sprays and other flower arrangements as the family wishes
Provide Aftercare, or grief assistance, to the bereaved
The funeral home will help coordinate arrangements with the cemetery.
Bring the following information to complete the State vital statistic requirements:

Birth Date
Birthplace
Father's Name
Mother's Name
Social Security Number
Veteran's Discharge or Claim Number
Education
Marital Status

Contact your clergy. Decide on time and place of funeral or memorial service. This can be done at the funeral home.
The funeral home will assist you in determining the number of copies of the death certificates you will be needing and can order them for you.
Make a list of immediate family, close friends and employer or business colleagues. Notify each by phone.
Decide on appropriate memorial to which gifts may be made (church, hospice, library, charity or school).
Gather obituary information you want to include such as age, place of birth, cause of death, occupation, college degrees, memberships held, military service , outstanding work, list of survivors in immediate family. Include time and place of services. The funeral home will normally write article and submit to newspapers (newspaper will accept picture and they will be returned intact).
Arrange for members of family or close friends to take turns answering door or phone, keeping careful record of calls. If Social Security checks are automatic deposit, notify the bank of the death.
If you request immediate assistance, yes. If the family wishes to spend a short time with the deceased to say good-bye, that's perfectly acceptable. Your funeral director will come when your time is right.
Burial in a casket is the most common method of disposing of remains in the United States, although entombment also occurs. Cremation is increasingly selected because it can be less expensive and allows for the memorial service to be held at a more convenient time in the future when relatives and friends can come together.
A funeral service followed by cremation need not be any different from a funeral service followed by a burial. Usually, cremated remains are placed in urn before being committed to a final resting place. The urn may be buried, placed in an indoor or outdoor mausoleum or columbarium, or interred in a special urn garden that many cemeteries provide for cremated remains. The remains may also be scattered, according to state law.
Viewing is a part of many cultural and ethnic traditions. Many grief specialists believe that viewing aids the grief process by helping the bereaved recognize the reality of death. Viewing is encouraged for children, as long as the process is explained and the activity is voluntary.
Embalming sanitizes and preserves the body. Embalming makes it possible to lengthen the time between death and the final disposition, allowing family members time to arrange and participate in the type of service most comforting to them.
The Federal Trade Commission says, "Except in certain special cases, embalming is not required by law. Embalming may be necessary, however, if you select certain funeral arrangements, such as a funeral with viewing. If you do not want embalming, you usually have the right to choose an arrangement that does not require you to pay for it, such as direct cremation or immediate burial."
When compared to other major life events like births and weddings, funerals are not expensive. A wedding costs at least three times as much; but because it is a happy event, wedding costs are rarely criticized. A funeral home is a 24-hour, labor-intensive business, with extensive facilities (viewing rooms, chapels, limousines, hearses, etc.), these expenses must be factored into the cost of a funeral.
Additionally, the cost of a funeral includes not only merchandise, like caskets, but the services of a funeral director in making arrangements; filing appropriate forms; dealing with doctors, ministers, florists, newspapers and others; and seeing to all the necessary details. Funeral directors look upon their profession as a service, but it is also a business. Like any business, funeral homes must make a profit to exist.
It really depends entirely on how you wish to commemorate a life. One of the advantages of cremation is that it provides you with increased flexibility when you make your funeral and cemetery arrangements. You might, for example, choose to have a funeral service before the cremation; a memorial service at the time of cremation or after the cremation with the urn present; or a committal service at the final disposition of cremated remains. Funeral or memorial services can be held in a place of worship, a funeral home or in a crematory chapel.
With cremation, your options are numerous. The cremains can be interred in a cemetery plot, i.e., earth burial, retained by a family member, usually in an urn, scattered on private property, or at a place that was significant to the deceased. (It would always be advisable to check for local regulations regarding scattering in a public place-your funeral director can help you with this.)
Today, there are many different types of memorial options from which to choose. Memorialization is a time-honored tradition that has been practiced for centuries. A memorial serves as a tribute to a life lived and provides a focal point for remembrance, as well as a record for future generations. The type of memorial you choose is a personal decision.
You might choose ground burial of the urn. If so, you may usually choose either a bronze memorial or monument. Cremation niches in columbariums are also available at many cemeteries. They offer the beauty of a mausoleum setting with the benefits of above ground placement of remains. Many cemeteries also offer scattering gardens. This area of a cemetery offers the peacefulness of a serene garden where family and friends can come and reflect.
If you wish to have your ashes scattered somewhere, it is important to discuss your wishes to be scattered ahead of time with the person or persons who will actually have to do the cremation ashes scattering ceremony, as they might want to let your funeral professional assist in the scattering ceremony. Funeral directors can also be very helpful in creating a meaningful and personal ash scattering ceremony that they will customize to fit your families specific desires. The services can be as formal or informal as you like. Scattering services can also be public or private. Again, it is advisable to check for local regulations regarding scattering in a public place-your funeral director can help you with this.
Yes — Depending upon the cemetery's policy, you may be able to save a grave space by having the cremains buried on top of the casketed remains of your spouse, or utilize the space provided next to him/her. Many cemeteries allow for multiple cremated remains to be interred in a single grave space.
Uncertainty about income tax issues can add to the stress experienced from the death of a spouse. You should meet with your family attorney and/or tax advisor as soon as possible to review your particular tax and estate circumstances. Bring a detailed list of your questions to the meeting. If you do not have an attorney or tax advisor, call the IRS toll-free at 800-829-1040 for answers to specific tax questions.
There are a number of options available, including:
Determine if the deceased person qualifies for any entitlements. Check with the Social Security Administration, the Department of Veterans Affairs, and with your State Fund. Many people are entitled to get financial assistance with their funeral costs from these agencies if they qualify.
Review all insurance policies the deceased person has, including life insurance. Some life insurance policies have coverage clauses for funeral related costs.
Find local charities providing financial help for funeral expenses. Search for non profit organizations and for churches in your area.
Talk to your funeral director about cremation options - these can be much less expensive depending on your choices.
Serving Crook , Deschutes , Jefferson , Wheeler and all other counties in Oregon
Designing Your Funeral
---
There are two facets of the design process. First, we ask you to consider how you wish to honor and celebrate the life. When those important decisions are made, we'll turn to the issue of how you wish to care for the physical remains.
How to Honor a Life
It's about bringing those you love together, at a time of loss. It's a natural thing to do, and over time, has become a socially-expected practice. More importantly, a funeral or memorial service, whether traditional, or contemporary, is the first step in healing.
You can have your service anywhere, and any way, you want. Your choices include the place of celebration, day of the week, and time of day; the musical selection, what prayers will be said or songs you'd like sung. We can arrange to have doves, butterflies, or balloons released at the close of the service. Keepsake gifts of wildflower seeds or a tree seedling can be given. We're here to help you create the most memorable and meaningful service to honor your loved one.
Burial or Cremation?
Your next consideration focuses on choosing between burial and cremation. Usually, people are clear on this point. In fact, your loved one may have told you, or someone else, exactly how they wish to be cared for. But it can be a hard decision for some families, especially when the wishes of the deceased were never clearly stated. If that's the case, please know we're able to help you come to the perfect decision for your loved one, and for you.
Once you decide, the finer details come into focus. If you've chosen burial, then selection of the casket, vault, and desired cemetery follows. Naturally, we're here to help you.
If cremation is your choice, then you'll need to make the next decision: whether the cremated remains will be placed in a mausoleum niche, or buried on the cemetery grounds.
In some communities, there's the option for a 'green burial.' If that's what your loved one would prefer, we'll help you select an environmentally-friendly choice.
What's Next?
Now that we've given you the basics, it's time to reflect more on exactly what is appropriate for you and your family.
If possible, gather everyone together to speak of his or her feelings and desires.
Still looking for inspiration? Speaking with a professional funeral planner at Prineville Funeral Home will help to clarify your thinking. Please reach out to us at 541-447-6459
Cremation Services
---
At Prineville Funeral Home we:
Have trained, knowledgeable and courteous counselors to guide you through the process.
Adhere to industry standards and guidelines for identification.
Only cremate one person at a time.
Only cremate human remains in our crematories.
Only use climate-controlled sheltering facilities.
Only use company-trained and certified crematory operators.
Allow inspection of our facilities.
Are backed by more than 100 years of experience in the funeral industry.
Provide a 100% Service Guarantee. If we ever fail to live up to expectations, we'll make things right or refund that portion of the service.
Are family owned and operated, not answering to a board of directors or stockholders looking for higher sales and profits.
Are not a society or membership based organization. You do not need to pay extra to obtain our low prices.
Provide affordable cremation plans.
Our Charges Include:
Transferring your loved one to Prineville Funeral Home. (Within 150 miles. $2.00 extra per additional mile)
Caring for the remains prior to cremation.
Preparing the death certificate and permits.
Coordinating with the local medical examiner/coroner if required.
Administrative assistance for communications with the responsible parties.
Managerial support to supervise and document the process.
A cremation container made of approved material, in which the body is placed for cremation.
The cremation itself.
Alternative Container for the cremation process.
A temporary container for the cremated remains.
Oregon Disposition Permit
Procurement of Certified Oregon Death Certificate
State Regulatory Fee-Included at no cost to your family
Cremation will take place upon receiving the Oregon Disposition Permit.
Tribute Videos
---
Our family photographs can skillfully blend wonderful graphic images and music, to create an elegantly emotive cinematic video. It can be an integral part of any funeral or memorial service. After the ceremony, the video is sure to become a treasured family keepsake. And, we can make copies as gifts for family and friends.
On-Site Crematorium
---
Crooks County's only on-site Crematory
Pre-Arrangements
---
When it comes to your final arrangements, shouldn't you make the decisions? The arrangements you make will reflect your exact wishes and desires. Pre-arranging your own service will help to ease the burden of your loved ones. It will also alleviate any questions, problems or differences, which can occur among family members.
Pre-payment will protect you from the rising cost of prices, and it will not be a financial burden on your loved ones. When you plan ahead you know that your wishes will be fulfilled.
Arrangements can be made in the comfort of your own home by clicking the button below. Fill in as much as you are comfortable with and we'd be pleased to meet with you to discuss further. See the form below for details.
Veterans Overview
---
The basic Military Funeral Honors (MFH) ceremony consists of the folding and presentation of the United States flag to the veterans' family and the playing of Taps. The ceremony is performed by a funeral honors detail consisting of at least two members of the Armed Forces.
The Funeral Honors rendered to you or your veteran will be determined by the status of the veteran. The type of Funeral Honors may be Full Military Honors, 7 Person Detail or a Standard Honors Team Detail.
At least one of the funeral honors detail will be from the Armed Force in which the deceased veteran served. Taps may be played by a bugler or, if a bugler is not available, by using a quality recorded version. Military Funeral Honor Teams may act as Pall Bearers if requested by the veteran/family.
Who is eligible for Military Funeral Honors?
Military members on active duty or in the Selected Reserve.
Former military members who served on active duty and departed under conditions other than dishonorable.
Former military members who completed at least one term of enlistment or period of initial obligated service in the Selected Reserve and departed under conditions other than dishonorable.
Former military members discharged from the Selected Reserve due to a disability incurred or aggravated in the line of duty.
Who is not eligible for Military Funeral Honors?
Any person separated from the Armed Forces under dishonorable conditions or whose character of service results in a bar to veteran's benefits.
Any person who was ordered to report to an induction station, but was not actually inducted into military service.
Any person discharged from the Selected Reserve prior to completing one term of enlistment or period of initial obligated service for reasons other than a disability incurred or aggravated in the line of duty.
Any person convicted of a Federal or State capital crime sentenced to death or life imprisonment.
How do I establish veteran eligibility?
The preferred method is the DD Form 214, Certificate of Release or Discharge from Active Duty. If the DD Form 214 is not available, any discharge document showing other than dishonorable service can be used. The DD Form 214 may be obtained by filling out a Standard Form 180 and sending it to:
National Personnel Records Center(NPRC)
9700 Page Blvd.
St. Louis, MO 63132
The Standard Form 180 may be obtained from the National Records Center or via the following web site: http://www.archives.gov/research/order/standard-form-180.pdf
Is anyone else eligible to receive funeral honors?
Yes. Members of the Commissioned Officer Corps of the Public Health Service (PHS) and National Oceanic and Atmospheric Administration (NOAA), as members of a Uniformed Service, are also eligible to receive funeral honors.
For NOAA personnel, eligibility is established using NOAA Form 56-16, Report of Transfer or Discharge. If the family does not have a copy of the NOAA Form 56-16, it may by obtained by contacting the Chief, Officer Services Division, NOAA Commissioned Personnel Center at (301) 713-3453, ext 102. or by writing:
National Oceanic and Atmospheric Administration
Commissioned Personnel Center
Chief, Officer Services Division (CPC1)
1315 East-West Highway, Room 12100
Silver Spring, Maryland 20910
For PHS personnel, funeral honors eligibility is established using PHS Form 1867, Statement of Service (equivalent to the DD Form 214). If the family does not have a copy of the Statement of Service, it may be obtained by contacting the Privacy Coordinator for the Commissioned Corps at (301) 594-3064 or writing:
Division of Commissioned Personnel/HRS/PSC
Attention: Privacy Act Coordinator
5600 Fishers Lane
4-36
Rockville, Maryland 20857
Prineville Funeral Home Heritage Chapel & Crematory Map:
Prineville Funeral Home Heritage Chapel & Crematory Facebook Page: