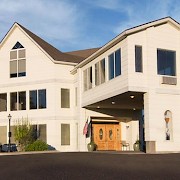 Phone1

: 541-416-3600

Web

: www.ochocovillage.com

Adres

:

830 NE Elm Street Prineville, OR 97754

Category

: Hospital, Medical Clinic

SHARE





About Ochoco Village Assisted Living:
Senior Living Prineville, OR
Welcome to Ochoco Village Assisted Living
Ochoco Village Assisted Living offers retirement and assisted living options with compassionate care in a professionally managed, carefully designed retirement community.
Our focus on wellness and keeping residents as independent as possible provides the perfect alternative to seniors who can no longer live on their own. Our residents enjoy beautifully appointed living spaces, delicious meals and engaging social activities.
Nestled in a quiet residential area, we are just minutes from the local community activities and attractions of downtown Prineville as well as steps away from the hospital and area medical clinics. Ochoco Village Assisted Living is the ideal senior housing community for families living in Prineville, Madras, and the surrounding areas of Crook County. Whether the search is for a short term respite stay or longer term living option, we invite you to visit Ochoco Village Assisted Living and experience our commitment to bringing independence to living and quality to life.
Testimonials
I want to thank you from the depth of my heart for all you and your staff did for my mother. You all enriched immensely those four years she was in your community and were also so helpful to me. I could count on your commitment to creating a good place for her and trust your sense of responsibility and your many skills.
Early on, the variety of activities that were planned kept my mom happily busy and able to explore much of this new location, which was new to her. Then when she was in need, your staff was so conscientious and caring about doing all they could to soften my mom's pains and problems, even when they were beyond what you all could reasonably be expected to deal with.
-Resident's Family Member
Care Levels at Ochoco Village Assisted Living
Ochoco Village Assisted Living provides a full range of exceptional senior living options. Our community offers all of the comforts of home with the added benefit of a team of experienced, caring professionals dedicated to providing you or your loved one with quality care. We offer exceptional care, wellness programs and social activities in attractive, modern surroundings. To best meet the changing needs of our residents, Ochoco Village Assisted Living offers on-site assisted living.
Assisted Living Prineville, OR
At Ochoco Village Assisted Living, we offer assisted living, a higher level of care than independent living, yet our residents enjoy the privacy of their own apartment and the independence to choose their daily routine.
Personalized Services and Assistance
We understand that each resident is an individual with unique needs and preferences. That's why we meet with each resident and family and conduct an assessment prior to move-in and at regular intervals after move-in. This helps us to better understand and meet each resident's need for assistance and support.
Primary Assisted Living Services
Three delicious, well-balanced meals served daily featuring a variety of menu choices
Snacks available throughout the day
Weekly housekeeping and daily trash removal
Weekly personal laundry (except dry-cleaning)
Daily physical fitness, creative, social, learning and spiritual activities and programs
Scheduled senior groups and trips
Resident-sponsored clubs for a variety of interests
Monthly wellness visits by a licensed on-staff nurse
Trained assisted living staff available 24 hours a day
Social and educational programs for families
Scheduled resident and family meetings
Maintenance of building and grounds
Personalized Services and Assistance
Personal hygiene and grooming
Dressing and clothes selection
Medication management
Continence management
Showering or bathing
Socialization and activities
Mobility and transferring
Monitoring of safety
Respite Care in Prineville, OR
Ochoco Village Assisted Living Respite Care
We understand that many families and caregivers enjoy providing care for their loved ones at home. But sometimes the physical, emotional and financial consequences for such caregivers can be overwhelming without outside support. Ochoco Village Assisted Living's Respite Care Program provides that support.
Our Respite Care Program offers short-term, temporary residence. This solution gives families and caregivers a chance to relax and enjoy their own time, knowing that their loved one is in a comfortable, caring environment.
We offer a community-wide continuum that provides several options for short-term respite stays. Our short-stay residents receive the same services all residents enjoy, including the opportunity to participate in our rich activities programs and social events.
We welcome your loved one to stay for just a week- or for however long they choose. In fact, most of our short-stay residents tell us how quickly they feel right at home- and become a part of the community- and many choose to stay for the longer term.
Services & Amenities at Ochoco Village Assisted Living
Welcome to your new home at Ochoco Village Assisted Living in Prineville, OR. As soon as you step foot into our beautifully designed senior living community, you'll feel right at home. Walk through the seasonally decorated double doors to a cozy lobby where many of our residents spend time shooting the breeze, playing cards, and welcoming visitors with a big smile and a warm, "How are you this fine day?"
We select staff who are dedicated to serving seniors. Our community is filled with well-trained and big-hearted individuals who truly want to help people. Once on board, their professional skills are fine-tuned through our training program. This way they are better able to provide our residents the attention and service they deserve.
Prineville Assisted Living Amenities at Ochoco Village Assisted Living
We want you to be at ease at Ochoco Village Assisted Living. That's why we offer an array of services and amenities to provide not only the comforts of home but also peace of mind, knowing that you have premier staff on-site to assure the highest levels of senior care available.
Ochoco Village Assisted Living offers the finest Prineville Retirement Living, including daily activities, organized outings, nutritional meals, a variety of exercise programs and much more. Our programs are individually designed for each senior living option.
Community Amenities
A choice of attractive apartments with full bathrooms
Kitchenettes
A variety of comfortable community areas including a main living room for socializing, private dining room for personal entertaining, a library and activity rooms
Beautifully landscaped grounds
Laundry facilities available
Full-service beauty salon/barber shop
Dining at Ochoco Village Assisted Living
There has never been a better time to enjoy the dining options at Ochoco Village Assisted Living. When it comes to food, we prepare meals that are both nutritious and delicious. Using the freshest ingredients, dining at Ochoco Village Assisted Living raises the standard for dining at senior living communities. Our staff attends to every detail with gracious and courteous service.
Prineville Senior Apartment Floor Plans
Senior living residents of Ochoco Village Assisted Living in Prineville choose from many living options, all in a secure and comfortable environment. What we're sure you will like best about our senior living floor plans, aside from the fantastic social opportunities is our maintenance-free living. Rest easy knowing that if something breaks or you need a light bulb changed, we will have someone out to help you as soon as possible. In your retirement years, we believe living a maintenance-free life is one of the greatest perks you can give yourself.

Studio : 0 Bedroom, 1 Bath, 348 Sq Ft.
One Bedroom : 1 Bedroom, 1 Bath, 480 Sq Ft.
Ochoco Village Assisted Living Map: