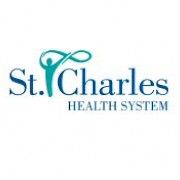 Phone1

: 541-447-6254

Web

: www.stcharleshealthcare.org

Adres

:

384 SE Combs Flat Road, Prineville, OR 97754

Category

: Hospital, Medical Clinic

SHARE





About St. Charles Prineville Hospital:
The new 62,000 sq. ft. St. Charles Prineville campus will offer a wide range of patient, family and visitor services including primary care and specialty care clinics, Emergency Department, Lab, Radiology and Rehab. St. Charles Prineville is leading the way as St. Charles Health System transitions from a medical model to a team-based, integrated patient-centered care model. To be more patient-focused, individual physician offices have been eliminated in favor of central work and lounge spaces for the entire patient-care team. The traditional patient waiting area has been replaced with a concierge-style patient greeting desk and the public area includes seating and a café, which may also be used for community events and gatherings.
The new St. Charles Prineville campus is scheduled to open to the community in 2015.
Contact Pioneer Memorial Hospital
General Information
| | |
| --- | --- |
| Main Number | 541-447-6254 |
| Billing Questions | 541-706-7750 |
| Contact a Person or Department | 541-447-6254 |
| Medical Records | 541-706-7784 |
| Schedule an Appointment | 541-382-4321 |
| Travel Directions | 541-447-6254 |
---
For Our Visitors
Chaplain's Office 541-382-4321
Gift Store 541-447-6254, ext. 276
Ways to Give
---
St. Charles Foundation 541-706-6996
Volunteer Services 541-706-6354
Other Business
---
Administration 541-382-4321
Community Education 541-706-6390
Conference and Meeting Facilities 541-706-6987
---
Contact Us
Please use this form only for technical website assistance. This email is viewed by the webmaster during regular business hours and is not directed to medical professionals. If you have a need for medical information, please refer to the phone list above for the appropriate department. If you are experiencing a medical emergency, dial 911.
St. Charles Prineville Hospital FAQ
1. What is the name and address of the new Prineville hospital and clinic?
St. Charles Prineville is the name of the new hospital. The clinic's name will remain St. Charles Family Care in Prineville. The hospital and clinic will be located at 384 SE Combs Flat Road, Prineville, OR 97754. The main phone numbers for the hospital and clinic as well as email addresses and other contact information will remain the same.
St. Charles Prineville: 541-447-6254
St. Charles Family Care Prineville: 541-447-6263
2. When will St. Charles Prineville open?
St. Charles Prineville and St. Charles Family Care in Prineville are scheduled to officially open to patients on Sept. 21, 2015. The Emergency Department at St. Charles Prineville will open at 4 a.m. on Sept. 21. Inpatients will be moved later that morning. We will be fully moved by the end of business on Sept. 21.
3. Will St. Charles Family Care in Prineville have new hours? St. Charles Family Care in Prineville will be open Monday through Friday from 8 a.m. to 6 p.m., and on Saturdays from 8 a.m. to 3 p.m. These new, expanded hours are designed to provide additional access to care to our Crook County community. The clinic will have restricted hours in the week leading up to the move. We will not be open on Saturday, Sept.19 for our regular Saturday clinic hours. The clinic will be open with limited access on Monday, Sept. 21
4. When are the hospital departments moving from the old facility to the new facility?
Most non-clinical departments including administration, community engagement, human resources, medical staff, clinical education, risk management and quality plan to move Sept. 8, 2015.
Clinical departments plan to move between Sept. 17 and Sept. 21.
A detailed schedule will be provided to caregivers and the public in advance of the move dates. We anticipate having this schedule available by July 1.
There will be significant information provided to the public in advance of the move.
5. When will the community be able to tour St. Charles Prineville?
There are three Sneak Peek events planned:
Thursday, Sept. 10, 2015: St. Charles Prineville Caregiver and Volunteer Reception. This is by invitation only.
Friday, Sept. 11, 2015: St. Charles Prineville VIP and Donor Reception. This is also by invitation only.
Saturday, Sept. 12, 2015: Crook County Community Sneak Peek and Wellness Fair at St. Charles Prineville. This event is open to the public.
6. Why is the new hospital 30 percent smaller than the old hospital?
St. Charles Prineville will be a state-of-the-art Critical Access Hospital that will aggressively implement Lean practices to increase efficiencies and control costs. Health care reform and reimbursement changes require our system to not only control costs, but also to focus on creating a healthier community. As a result, much of the design of the new St. Charles Prineville is concentrated on outpatient preventive and wellness care. With a deliberate focus toward flexible, multiuse spaces, we were able to reduce the overall squuare footage while still providing the same level of services to our community.
7. Since the hospital is smaller, does that mean the staff will be reduced?
We staff all of our hospitals based on the number of patients and their level of severity and need for clinical care. While the new hospital will be smaller, it has also been designed to be more efficient meaning we anticipate serving a similar number of patients with a similar staff size.
8. How many rooms/beds are in the new hospital?
There are a total of 16 available inpatient beds - 12 private patient rooms in the Medical/Surgical floor and an additional four private patient rooms in the Emergency Department, which are designed for flexible use, including for inpatients.
While the current Pioneer Memorial Hospital facility is licensed as a 25-bed facility, only 11 rooms are in use. In 2014, the average census of inpatients at PMH was six.
9. What happens if the community grows and we need more beds?
This design was specifically chosen for our new facility because of its flexible space plan and ability to be expanded if needed.
10. What about the PMH donor walls?
St. Charles recognizes and values the contributions of donors to Pioneer Memorial Hospital over the past 66 years. We absolutely intend to honor the legacy of past donors who contributed to the advancement of health care in Crook County. With limited wall space in the new hospital, we will keep working on the best way to ensure we honor that legacy.
We have come up with an innovative design which we believe will honor the historical donors as well as the unique history of our community. This design includes the more than 2,800 names currently listed on the two donor installations in Pioneer Memorial Hospital.
11. What is happening with the current PMH building?
The Pioneer Memorial Hospital Board of Directors owns the PMH building. The board is currently exploring options to sell the property. While a number of ideas have emerged, no decisions have been made as to the future use of the property.
12. Are there changes in the services or level of service that will be provided?
There is NOT a change or reduction in services provided at St. Charles Prineville versus Pioneer Memorial Hospital. We will continue to serve the same patients, with the same injuries and illnesses that we serve today, and will actually be able to provide an enhanced level of care due to the design and function of this new building.
Our services continue to include emergency services, operating rooms/surgery, radiology (including x-ray, CAT Scan, MRI, mammography), laboratory services, outpatient clinic, rehabilitation services, in-patient services, swing-bed, cafeteria, and gift shop.
St. Charles Health System is committed to providing the services that are most needed within our individual communities.
13. How will the public know where the new hospital is?
There is a comprehensive communication plan in place to communicate to our community and outlying areas about the move to the new facility. This includes community events, posters, media communication and extensive signage.
St. Charles Prineville Hospital Video:
St. Charles Prineville Hospital Map: