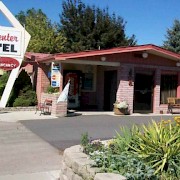 Phone1

: 541-447-5522

Fax

:

541-447-7739

Web

: www.prinevillecitycenter.com/

Adres

:

City Center Motel 509 NE Third St Prineville, OR 97754

Category

: Hotel, Motel, Lodge

SHARE





About Prineville City Center Motel:
Welcome
Our Motel is conveniently located in beautiful Prineville Oregon adjacent to City Parks and the pool. Prineville has an incredibly rich history so make sure and check out the Bowman Museum while you are in town! Check out the Chamber of Commerce page for all the great activities in our area as well. For our guests that want to fish, check the river levels here.
It is our pleasure to serve you today and in the future. We offer clean, affordable rooms and we will strive to make your stay as comfortable and relaxing as possible! Make City Center your home away from home! Make sure and stop in on our facebook fan page, we even have a new reviews tab!
Beth Jay
About Us
The Jay family has owned and operated City Center Motel since 1971. We pride ourselves on taking excellent care of our guests and making them feel at home from the instant they step through our doors.
We look forward to having you stay with us!
Beth Jay
Amenities
Catering to the needs of our guests, our hotel offers these amenities to make your stay with us more comfortable:
- Free Local Calls
- Complimentary Wireless Internet in All Rooms
- Cable TV--ESPN
- Air Conditioned Rooms
- Coffee in room & at Front Desk
- Conveniently Located
- Adjacent to City Parks & Pool
- Refrigerators in Rooms
- Microwaves in Rooms
- Pet & People Friendly Rooms
- Smoking & Non Smoking Rooms
-Continental Breakfast on weekends
-Gazebo area for gatherings
Rooms & Rates
Call and check for any special rates available!
Room Rates
Standard/Singles: From $50.23
Twin/Queen rooms: From $54.75
Queen/Queen: From $59.36
Plus 9.5% applicable tax
Weekly rates are available.
More rooms and rates are available. Please call 541-447-5522 for details.
*Rates are subject to change.
Please email us or go to our Facebook page to give us some feedback on your stay! https://www.facebook.com/pages/Prineville-City-Center-Motel/92894674491
Check out our reviews on trip advisor and yahoo travel.
Office Hours: 8am-10pm
If you will be arriving later, please call to make arrangements.
Prineville City Center Motel Map:
Prineville City Center Motel Facebook Page: