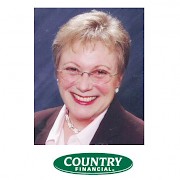 Phone1

: 541-447-6428

Fax

:

541-447-6486

Web

: countryfinancial.com/susan.mcdermott

Adres

:

267 NE 2nd St, Ste 203 Prineville, OR 97754

Category

: Insurance Agency

SHARE





About Country Financial - Susan McDermott:
My Bio and Team
I pride myself on working my hardest each day to provide the best possible service to my clients. Being able to help people is a central part of my life, and I'm happy I can be of service to my community. I also enjoy meeting new people and through one-on-one relationships, I am able to learn how unique each client is.
I started working for COUNTRY Financial because I realized that COUNTRY and I have a lot in common. COUNTRY fits my work ethic and helps me by giving me all the tools I need to create customized solutions for each of my clients.
COUNTRY expects me to be down-to-earth and straightforward with my clients. I value that because I wouldn't communicate any other way. I respect you and your goals and I want you to be able to trust and rely on me to help you with your financial security.
Please feel free to contact me directly by phone or by completing the Contact Me form on my site. I look forward to getting to know you soon!
EXPERIENCE
I have 30+ years of industry experience
LICENSES/CERTIFICATIONS/DESIGNATIONS
PLACES I HAVE LIVED
Prineville, OR - 1956-1976 (Hometown)

Portland Area, OR - 1976-2004 (Other)

Prineville, OR - 2004-Present (Current)
FAMILY
Charlie (spouse)

Noel and wife Jessica (kids)

Sergei (dogs)
COMMUNITY INVOLVEMENT
Church Finance Committee

Economic Development Committee

Charter Member of Drug Free Workforce

Crook-Wheeler Farm Bureau Member

Former Prineville-Crook County Chamber of Commerce Board
INTERESTS
Working in yard

Crocheting

Target shooting

Reading

Walking, hiking
Why Meet with Me
I can help secure your future with a complimentary insurance and financial review.
Unless you're an expert in every aspect of your financial affairs, there may well be gaps and weaknesses in your long-term plans for financial security.
Put simply, what you don't know or understand about your financial affairs can end up hurting you and your family.
That's why it makes sense to sit down with me and complete your confidential insurance and financial review. With the right help, almost any family can achieve financial security.
Whether you are my client or not, an insurance and financial review will help secure your future.
If we haven't met before, the first meeting will simply allow you to learn more about our services and get to know me and the company I represent.
I will also walk you through the information we'll need to create a tangible plan that clearly shows you how we'll help you get from where you are today to where you want to be in the future.
If you have met with me before, taking a fresh look at your situation each year may reveal some gaps or new opportunities you can take advantage of.
Download our Insurance and Financial Review checklist for a complete listing of items to bring with you to the review.
Is meeting with me the right step for YOU right now?
Some people feel their financial affairs are in pretty good shape, and wonder whether it is worth their time to meet with me. Others feel that their situation is in a bit of a "mess", and hesitate to share their information with anyone outside their family.
Either way, there is nothing to lose by sitting down with a trained expert for a confidential, in-depth review - whether you have met with me before or not.
Your meeting with me could prove to be the smartest thing you ever do to ensure your family's financial security.
Backed by a team of experts
When you work with me, you get a one-on-one relationship and the added support of a team of experts. I get to know you and your family, and can clearly communicate your needs while working with a team of specialists to prepare a plan that meets your goals.
Essentially, you get personal service and the comprehensive professional expertise you need to prepare for whatever the future brings your way.
Contact me for a complimentary insurance and financial review today.
Policies issued by COUNTRY Life Insurance Company®, COUNTRY Investors Life Assurance Company®. COUNTRY Mutual Insurance Company®, COUNTRY Casualty Insurance Company®, and COUNTRY Preferred Insurance Company®, Bloomington, IL. Coverage not available in all states. Read our full disclaimer.
This information is for general use only and shall not be construed or relied upon as an offer of employment, express or implied, under any circumstances. All terms are "at will" and are controlled by the official policies of the organization and by applicable laws and regulations.
What Financial Security means to me
Having a tangible plan for my financial future

Balancing my need to protect what I have with my desire to build for the future

Saving and investing for my family's financial security tomorrow

Feeling protected from the unexpected

Having a partnership with a trained financial professional
HOURS
| | |
| --- | --- |
| Monday: | 09:30 - 16:00 |
| Tuesday: | 09:30 - 16:00 |
| Wednesday: | 09:30 - 16:00 |
| Thursday: | 09:30 - 16:00 |
| Friday: | 09:30 - 16:00 |
| Saturday: | Closed |
| Sunday: | Closed |
Evening and weekend appointments available.
Country Financial - Susan McDermott Map: