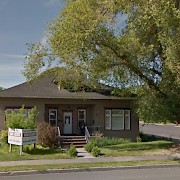 Phone1

: 541-447-3020

Fax

:

541-447-2120

Web

: www.crookcountyproperties.com

Adres

:

691 NE Third Street - Prineville, OR 97754

Category

: Real Estate, Properties

SHARE





About Crook County Properties, LLC:
At Crook County Properties, LLC you'll receive "Professional Real Estate Services" whether you are selling or buying residential, bare land, commericial, investment or ranch property in Crook County or Wheeler County - Prineville, Powell Butte, Post, Paulina, or Mitchell.
Whether you are a first time home buyer or a seasoned investor, we would be glad to put our knowledge and experience to work for you. Crook County Properties, LLC offers 25 years of experience. We take pride in our reputation and you can count on a knowledgeable realtor to handle all your real estate needs.
Land
Residential
Income and Investment
Farms and Ranches
Office Hours:
Monday - Friday 9:00 AM to 5:30 PM
Saturday & Sunday by appointment
BOKERS - REALTORS
Mark Rhoden
Oregon Licensed Broker
Cell: (541) 420-4638
luvtorunlots@hotmail.com
Michael Warren II
Oregon Licensed Broker
Cell: (541) 390-1032
michael@crestviewcable.com
Donna White
Oregon Licensed Broker
Cell: (541) 771-0667
donnawhite@crestviewcable.com
Barbara Warren
Oregon Licensed Principal Broker
Cell: (541) 408-6643
barbara@crestviewcable.com
Crook County Properties, LLC Map:
Crook County Properties, LLC Facebook Page: