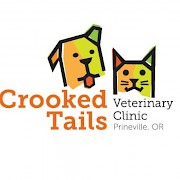 Phone1

: 541-362-8666

Web

: www.crookedtails.com

Adres

:

599 NW 2nd St Prineville, OR 97754

Category

: Veterinary Clinic

SHARE





About Crooked Tails Veterinary Clinic:
We are a companion animal veterinary clinic providing a full range of affordable vet services to Prineville, Redmond, Bend and the surrounding areas.
We're here for the animals AND the owners.
We love animals and we want to see communities full of happy, healthy pets. We believe the best way to do this is to provide a high-quality veterinary service that is affordable to anyone, so no pet needs to go uncared for.
Full Service
Crooked Tails is a small doctor-owned clinic that provides a full range of services for your pets.
Community Programs
We have partnered with SNIP (Spay Neuter Investment Project) to provide a feral cat spay/neuter and vaccine service available to residents of Crook County. By inhibiting feral animals' ability to breed, we can reduce unwanted and un-cared for animals in our community dramatically. Feral cats can be dropped off in traps Monday thru Friday mornings between 8:00 and 9:00 am and picked up the same afternoon. They will be spayed or neutered and vaccinated for free. All feral cats will also be ear-tipped so it is possible to tell if they have already been desexed without reanesthetizing them.
Full-Service
Full service means that we can provide all the basic services your pet may need. This includes radiology, vaccinations, microchipping and more.
Affordable Care
We believe that everyone should be able to afford care for their animals. We want to keep our community's pets well-cared for and healthy, which in turn means less abandoned and feral animals.
Small and Personal
We are a small clinic; we currently are just one doctor and one certified tech. This means you get personal, dedicated care and get to know the people caring for your animal.
We see emergencies during business hours, M-F 8:00-5:30pm. Outside of those hours please call the Animal Emergency Center in Bend at (541) 385-9110
Services
Complete care for your pets
At Crooked Tails we offer a full range of veterinary services for your dogs and cats, including spays, neuters, dentals, general surgery, mass removals, vaccination, wellness exams, and more. We also just purchased a brand new digital x-ray machine which should be arriving within the next few weeks!
In addition to our regular veterinary services we offer a free feral cat spay/neuter and vaccination program in conjunction with the Spay Neuter Investment Project (SNIP) of Prineville. If you have trapped a feral cat you can drop it off at the clinic M-F between 8am and 9am, and pick it up that same evening.
STAFF
Dr. Bethany Holman BVSc
Veterinarian
Bethany grew up in Salem, OR before attending Oregon State University for her undergraduate degree. Originally planning to become a human doc she decided at the last minute (after successfully suffering through the MCAT prep & test) that her real passion was in animal health. She then moved to beautiful New Zealand with her husband to attend veterinary school at Massey University in Palmerston North. Since moving back she has worked at a low-cost veterinary clinic in Southern Oregon until recently moving to Prineville to start up the Crooked Tails clinic.
In her spare time Bethany loves to get outside hiking, mountain biking, climbing, or anything else in the mountains. She has one cat and one dog – a 90lb lab mix named Makalu (Makalu is a mountain in Nepal which means 'Big Black').
Vanessa Foltz
Certified Veterinary Technician
Vanessa Foltz has lived in Prineville for 10 years. She has been married for 26 yrs. and has two children. Some of her hobbies include camping, horseback riding, snorkeling, hiking, river rafting and raising animals just to name a few. She is also very active in the 4H program and has helped both her children raise animals; along with her daughter, they currently have a joint sheep breeding project going with the successful first season lambing complete!
Vanessa brings a complete range of certified veterinary technician skills including anesthesiology, radiology, dentistry, surgery assistant, pharmacy and lab work. She also has extensive experience as receptionist, office management and client education. Vanessa graduated from Fort Steilacoom community college animal technology program and was licensed by the Veterinary Medical Examining Board in Oregon. She has 26 years of practical applied skills at multiple veterinary clinics across Oregon including small/large animals and feral cat clinics.
PARTNERS
SNIP (Spay Neuter Investment Project)
Crooked Tails has formed an association with the non-profit Spay Neuter Investment Project of Prineville. We will be offering a free feral cat spay & neuter program at Crooked Tails. Visit SNIP at www.sniphouse.org
HOURS OF OPERATION
Monday - Friday: 8:00 am - 5:30 pm
Feral Cats: Dropoff 8:00am-9:00am; Pickup 4:30pm-5:30pm
Crooked Tails Veterinary Clinic Map:
Crooked Tails Veterinary Clinic Facebook Page: