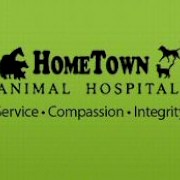 Phone1

: 541-447-5219

Fax

:

541-416-0911

Web

: hometownvet.net

Adres

:

1250 Nw Harwood Ave Prineville, OR 97754

Category

: Veterinary Clinic

SHARE





About HomeTown Animal Hospital:
Pet Emergency? Call us right away at 541-447-5219!
About Us
HomeTown Animal Hospital is proud to serve the Prineville OR area for everything pet related. Our veterinary clinic and animal hospital is run by Dr. Scott Davis, who is a licensed, experienced Prineville veterinarian.
Our team is committed to educating our clients in how to keep your pets healthy year round, with good nutrition and exercise. HomeTown Animal Hospital stays on top of the latest advances in veterinarian technology and above all, remembers that all animals and pets need to be treated with loving care in every check-up, procedure, or surgery.
HomeTown Animal Hospital is a full service veterinary medical facility located in Prineville, Oregon. The professional and courteous staff at HomeTown Animal Hospital seeks to provide the best possible medical, surgical and dental care for our highly valued patients.
We are committed to promoting responsible pet ownership, pet preventive health care and pet health related educational opportunities for our clients. HomeTown Animal Hospital strives to offer excellence in veterinary care to Prineville, Redmond, Bend, Madras, Mitchel, Fossil, John Day, and all surrounding areas.
If you have any questions, call 541-447-5219 or email us and we'll promptly get back to you. Our Prineville veterinarian office is very easy to get to -- and you can find directions on our Contact Us page! We also welcome you to subscribe to our newsletter, which is created especially for Prineville pet owners.
Service, Compassion and Integrity: Providing exceptional service, compassionate pet care with value and integrity for pets and their owners; striving to make a difference in our hometown.
Dr. Scott L. Davis and Dr. Amy N. Achille
Prineville Veterinarian | HomeTown Animal Hospital | 541-447-5219
What to Expect
When you are looking for a veterinary care clinic you should be able to count on superior care and excellent service. We at HomeTown Animal Hospital in Prineville OR have assembled an expert team of veterinary professionals to bring you the best possible healthcare for your pet. We have a veterinary facility which is clean, comfortable, and efficient. Call 541-447-5219 to schedule an appointment and we will find a time that is convenient for you.
Once a year, you should take your pet in for a check-up. Dr. Scott L. Davis, Dr. Bill M. Williams, and Dr. Amy N. Achille will check the health of your pet from head to tail, and you will be very happy you came to HomeTown Animal Hospital for service.

Bring in any medical history you have of your pet when you come to our vet clinic. It's best to keep a journal of your pet's health throughout his or her life, including behavioral shifts. If you have something like this, share it with our team. If not, let us know everything that you think will be important.

Our team can't wait to meet you and your four legged friend.
Request an Appointment
541-447-5219
Payment Options
1. Payment is expected when services are rendered.

2. We accept debit cards, credit cards (Visa, Mastercard, Discover) checks and cash. All cards must be signed by the owner of the card.

3. When unexpected illness strikes a pet, unexpected expense strikes as well. HomeTown Animal Hospital understands this and is able to make some special arrangements through the CareCredit program. It takes just 5 minutes to complete an application and will allow you to break down your payment into 6 monthly installments. You can either apply at our hospital, where we'll call in your application over the phone for immediate approval, or apply yourself online at: www.CareCredit.com.

Highlights of the CareCredit program:
Low Monthly Payments (3% of the Total Balance)
Interest Free For 6 Months
Determine Approval in a Few Minutes
No Annual Fee
Insurance For Your Pets

Another popular option for your family and pet is insurance coverage. To learn more, please visit the following pet insurance websites . . .
Discounts
Senior 65+ receive 10% off all services
4H receive 10% off all services (must have proof of membership)
Services
We're pleased to offer the following services at HomeTown Animal Hospital
Appointments
Our appointment book is computerized which allows us to efficiently make appointments for you and your pet. Our receptionists and team will attempt to accommodate all requests to the best of our ability. Emergencies are accepted anytime our clinic is open. If you feel you have an emergency with your pet, please call us or come to the hospital immediately. If possible it is best to call before coming in so that a staff member can advise you on your particular emergency.
Emergency & Urgent Care
We have a veterinarian and personnel on duty 6 days a week who are trained and equipped to handle any urgent care your pet has. Usually an emergency team consists of at least one veterinarian and several technicians working together to save a pet's life. Emergencies can be things such as snail bait poisoning, hit by car, and chocolate ingestion. If you ever feel that your pet needs emergency treatment do not hesitate to call or come in immediately. If possible it is best to call before coming in so that a team member can advise you on your particular emergency.
We are also available for urgent care when the condition is not life-threatening. If you feel your pet needs to be seen before you are able to get an appointment, our veterinarians will work to "squeeze" you in between scheduled appointments. When you arrive, our receptionists will be able to give you an estimate on how long you may have to wait in order to be seen.
Types of Pets Seen
Because a large number of veterinarians practice at HomeTown Animal Hospital, we can care for many types of pets:
Dogs
Cats
Horses
Farm Animals
Discounts
HomeTown Animal Hospital offers discounted services to senior citizens, 65+ years, 10% off services (Call for details). 4H Discount 10% off services, must show proof of membership. Please call us for more information.
Office Hours
| | | |
| --- | --- | --- |
| Mon | 8:00am | 5:30pm |
| Tues | 8:00am | 5:30pm |
| Wed | 8:00am | 5:30pm |
| Thurs | 8:00am | 5:30pm |
| Fri | 8:00am | 5:30pm |
| Sat | 9:00am | 2:00pm |
| Sun | Closed | Closed |
HomeTown Animal Hospital Map: